Thinking about adding some new skin care products to your routine? With thousands of products to choose from, knowing which to buy can seem a little daunting. 
However, one way to decide whether or not to splash out on a particular formula is to assess how popular it is. After all, skin care products usually only grow in popularity for one reason; because they actually work. 
Today, Venofye will be talking you through some of our most popular skin care products and explaining why they deserve a prime spot in your beauty regimen. 
The Blossom Bee Advanced Wrinkle Corrector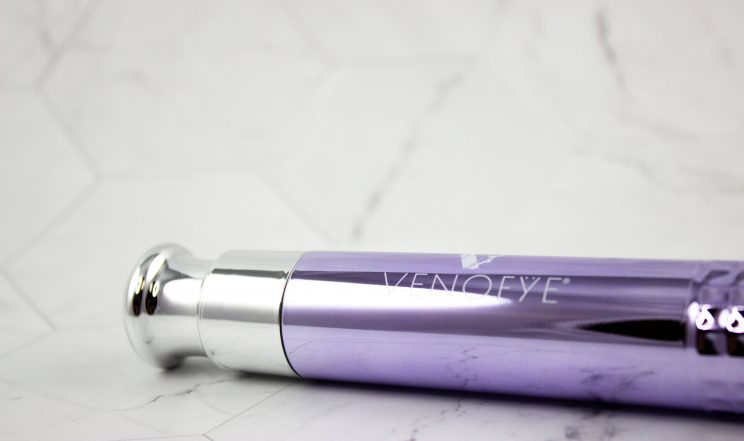 The Blossom Bee Advanced Wrinkle Corrector from Venofye is one of our bestsellers for a reason; it immediately smooths away the appearance of fine lines and wrinkles. It's one of our most popular skin care products among those who are trying to reduce the visibility of aging because of how quickly it can leave the skin looking firmer and younger.
There are a number of noteworthy ingredients in this formula. Acetyl hexapeptide-8 has been proven to decrease the appearance of wrinkle depth by up to 30% when used regularly. These effects are enhanced by the addition of dimethylaminoethanol tartrate, or DMAE, which produces similar results.
You'll also find Venofye's signature ingredient in this formula; bee venom. We love this ingredient for how it tightens the complexion, enabling it to do away with the look of facial creases. It also helps to give the skin a plumper and more lifted finish, which is again ideal for those who are battling the skin aging process.
The Queen Bee Vitamin C Serum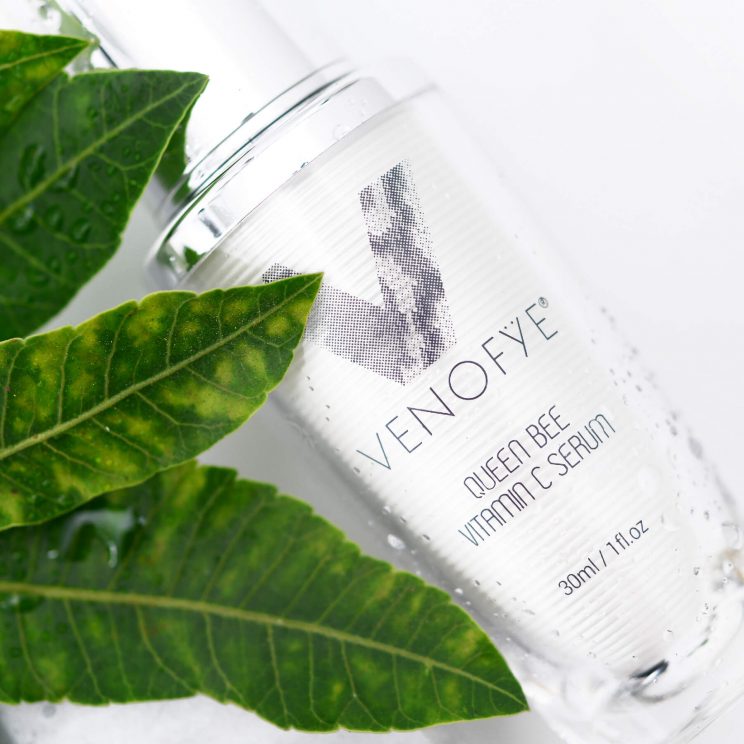 With vitamin C being one of the most highly recommended skin care ingredients, it comes as no surprise that the number of vitamin C skin care products on the market has soared. However, one formula that remains particularly popular is Venofye's very own Queen Bee Vitamin C Serum. 
What makes this product such a gamechanger is the fact that it contains two forms of vitamin C. Tetrahexyldecyl ascorbate and ascorbyl palmitate come together to tighten and brighten the appearance, while leaving skin cells feeling fortified and supported.
Take a look at this product's ingredient list and you'll notice that we've added vitamins A and E to this formula as well. Why? Because vitamin C is an antioxidant, meaning that it becomes all the more powerful when combined with other antioxidants, such as vitamin A and vitamin E. Bee venom also exhibits high levels of antioxidant activity, which beautifully complements the vitamins in this formula.
For best results, we recommend using this serum at least once a day. With that said, many of our customers apply it twice daily; once in the morning and once at night. This speeds up the rate at which the vitamin C builds up in your skin, meaning that you'll see the effects of the ingredient much sooner.
The Blossom Bee Day Moisturizer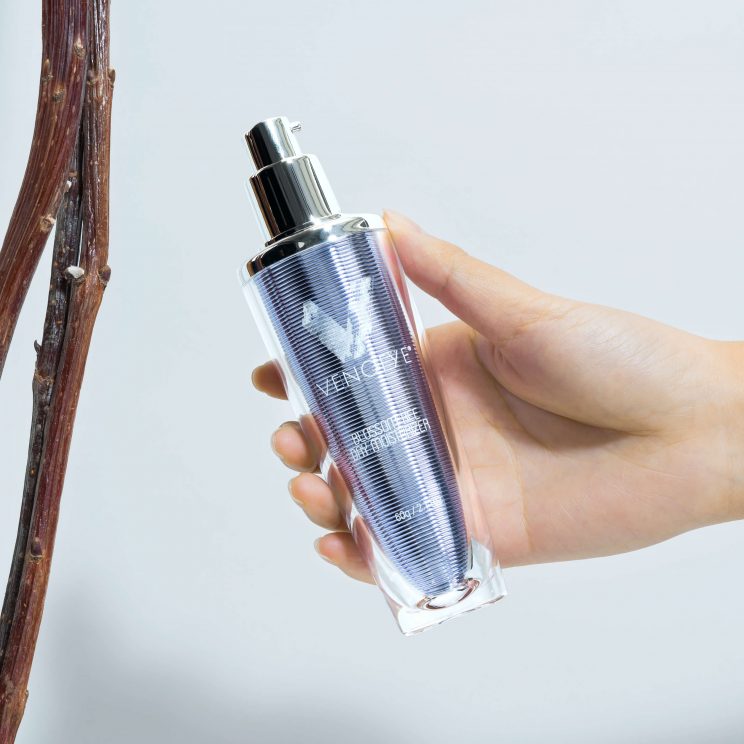 Finding a good day cream isn't easy. It needs to be a formula that's lightweight enough to not leave your face looking greasy throughout the day, especially if you plan on applying makeup over the top. However, it also needs to be moisturizing enough to keep your skin cells hydrated for several hours. 
That's why our Blossom Bee Day Moisturizer is such a hit. This formula contains rich ingredients, such as shea butter and sunflower seed oil. However, they have been blended in a way that produces an almost weightless cream that sinks into the skin quickly and efficiently, without leaving a sticky residue behind. 
The hydrolyzed oat protein in this formula is also an important addition. Proven to leave the skin barrier feeling stronger and thicker, this ingredient also soothes the look of inflamed skin to keep the complexion balanced and happy. 
As with all Venofye skin care products, you'll find bee venom in this formula too. It will leave your skin looking perky and energized throughout the day, ensuring that your complexion truly glows.
The Royal Jelly Bee Luminescent Eye Serum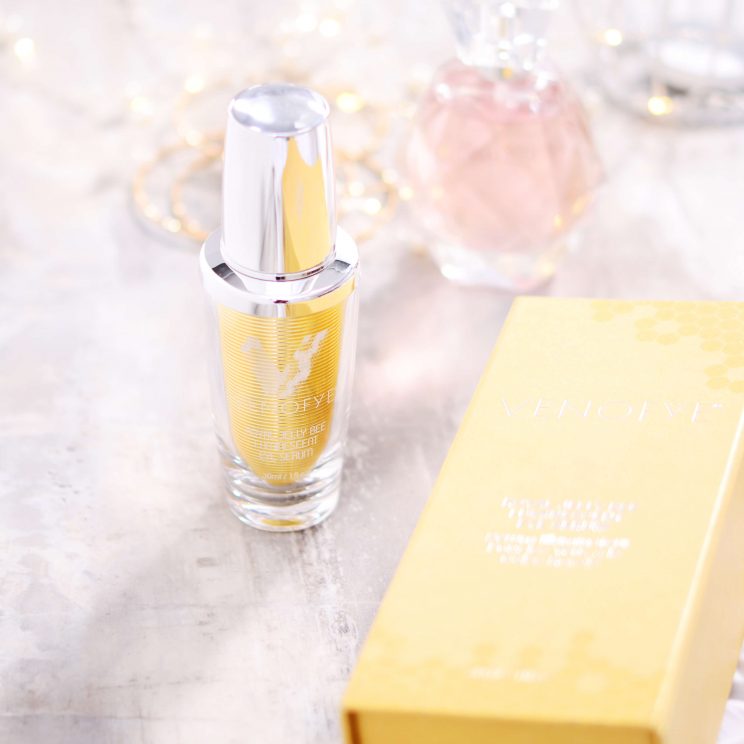 While many facial serums can be safely used around the eyes, more and more people are now turning to serums that have been designed specially for the eye area, such as Venofye's Royal Jelly Bee Luminescent Eye Serum. 
Why? Because the skin around the eyes is much thinner than the skin anywhere else on the face and body. This makes it more vulnerable to damage, which is why this area is highly prone to developing wrinkles, loose skin, and discoloration. Eye care products enable you to directly target these eye-specific issues. This means that results will be apparent much sooner than if you were to use regular facial products around your eyes.
When it comes to our Royal Jelly Bee Luminescent Eye Serum, this formula is all about reducing the appearance of fine lines and crow's feet, along with discoloration and puffiness. It's packed with peptides to thicken the look of the thin skin around the eyes, while sodium hyaluronate and glycerin help the skin to look plumper from within.
The Blossom Bee Facial Peeling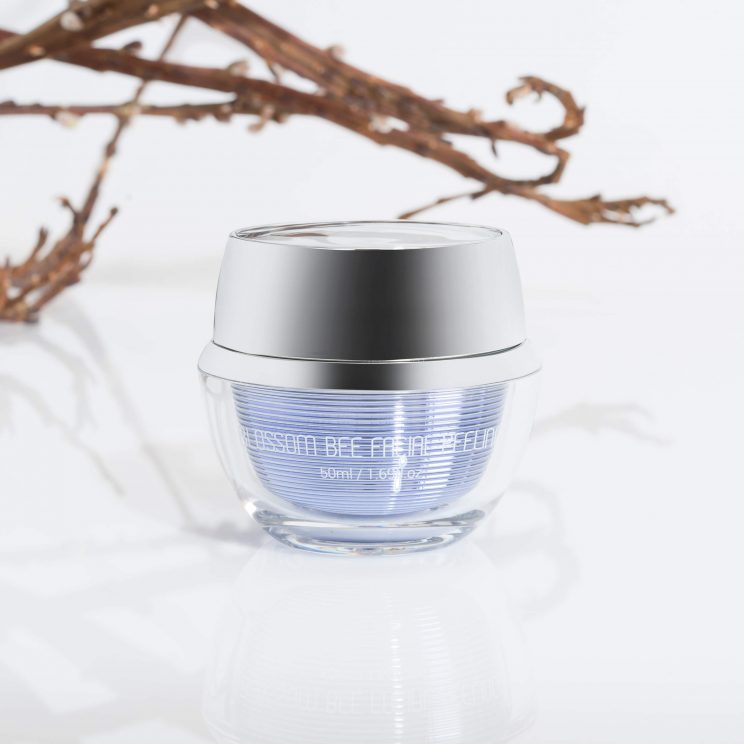 Everybody needs a good exfoliant, especially once their skin starts to age. At this point, natural cell turnover slows down. This causes older and duller skin cells to build up on the surface of the skin instead of being naturally shed. A good exfoliant will clear these dead cells away, leaving the skin looking radiant.
The Venofye Blossom Bee Facial Peeling does all of that plus so much more. It boasts a unique gel-like consistency that's gentle on the skin yet extremely effective at clearing debris away from the pores. 
While many exfoliants can leave the skin feeling dry, our facial peel does the opposite. It contains hydrating ingredients that plump up the complexion post-peel, which is why so many people favor this formula over the alternatives.
With that said, you still need to be careful about how often you use this exfoliant. Just like other exfoliants, going overboard with usage can damage your skin, resulting in symptoms of over-exfoliation. Keep your skin looking calm and healthy by applying our peel just once a week, or twice if you have oily or combination skin.
The Apitoxin Collagen Cream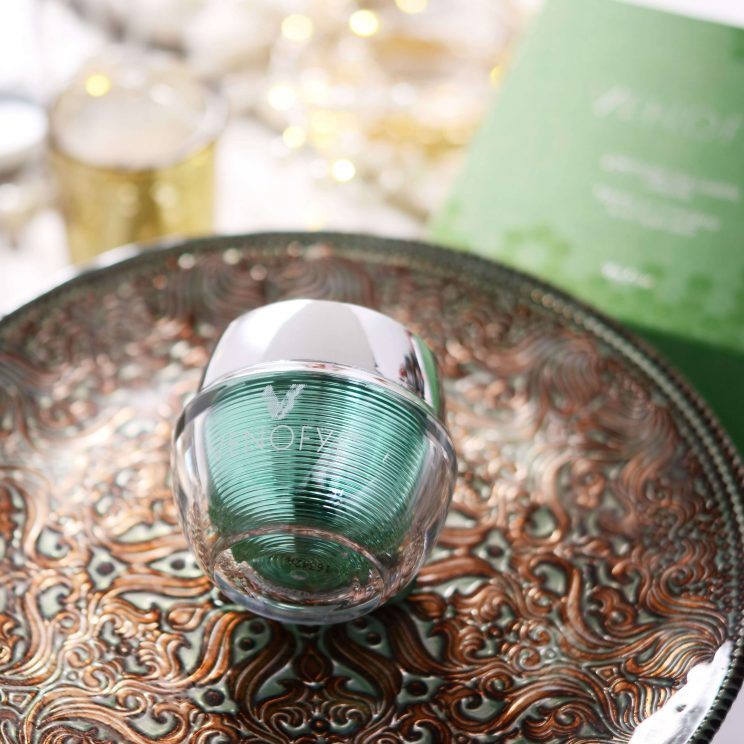 Aging can be a difficult part of life to accept. Nobody wants to look older than their years, which is why skin care products designed to reduce the appearance of aging, such as the Venofye Apitoxin Collagen Cream, are becoming increasingly popular. 
This cream is brimming with some of the best ingredients that the industry has to offer. Vitamins A, C, and E are joined by a vast array of antioxidant-rich botanical extracts. From green tea to sugar maple to sweet orange, each of these plant-derived ingredients helps to fight the appearance of free radical damage to give the skin a more youthful finish.
You'll also notice a couple of acids in this product's ingredient list. Both malic acid and lactic acid are alpha-hydroxy acids (AHAs). They're among the gentlest of available AHAs, meaning that they won't irritate your skin but will still provide a mild exfoliating effect. For this reason, we'd recommend using this cream just once a week to begin with. Once you're confident that your skin has grown accustomed to the acids in this formula, you can gradually increase its usage.
The Queen Bee Clarifying Cream Cleanser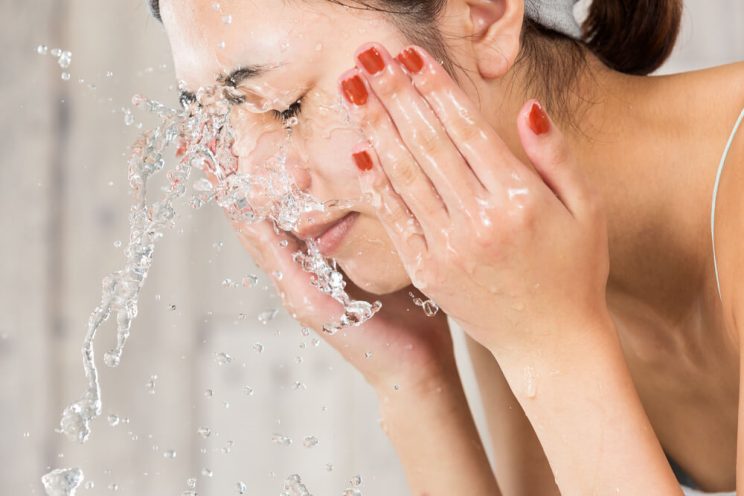 Take a look at the many different cleanser formats out there and it's easy to feel confused. From foams to creams to mousses, how do you know which to choose?
Well, when it comes to popularity, cream cleansers, such as the Venofye Queen Bee Clarifying Cream Cleanser, usually come out on top, especially for those dealing with dry, sensitive, or aging skin. Cream cleansers are known for being gentle and moisturizing. They'll cleanse your skin without stripping it dry, ensuring that it still feels able to protect itself from environmental damage.
What makes this cleanser extra special is how it does so much more than just cleanse. We've selected a number of powerful botanical extracts to add in to this formula, each one providing its own spectrum of skin-loving benefits. Take chamomile extract, for example. Research shows that it soothes the feeling of inflammation and irritation, which can often occur during the cleansing process. Calendula extract and moringa seed oil have similar effects, ensuring that the skin feels balanced and relaxed post-cleanse.
The Queen Bee Neck Lift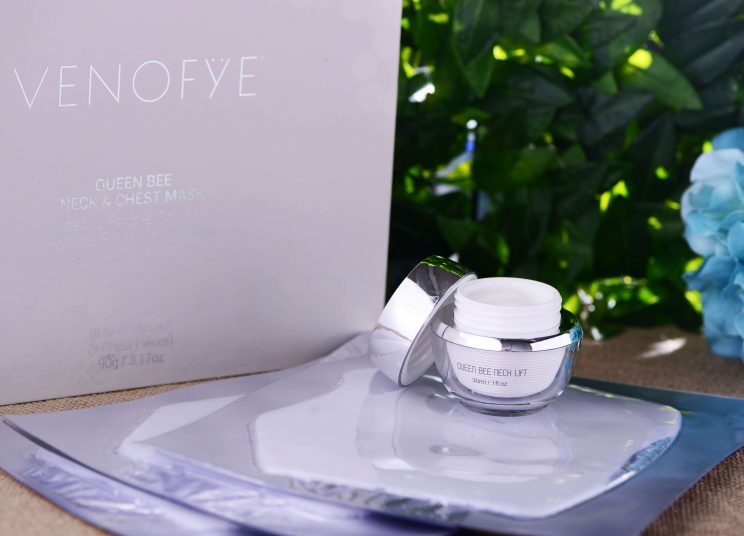 Neck wrinkles are nothing new. The skin on the neck is more fragile than the skin anywhere else on the body, which is why it's so susceptible to creasing and sagging. However, with people now spending an increasing amount of time looking down at a screen, neck lines have started appearing earlier on in life. In fact, there's even a new term that refers to modern-day neck wrinkles; tech neck.
So, how do you tighten up the look of a loose neck? It's simple – you need a good neck cream, such as Venofye's Queen Bee Neck Lift. Due to how common tech neck is these days, this cream has become extremely popular. Its blend of ingredients helps to smooth and lift the appearance of the neck, leaving it looking firmer and younger.
Our neck cream is also extremely hydrating. It contains both sodium hyaluronate and glycerin. These humectants boast moisture-binding properties that leave skin cells feeling fully quenched. 
The Venofye Body Butter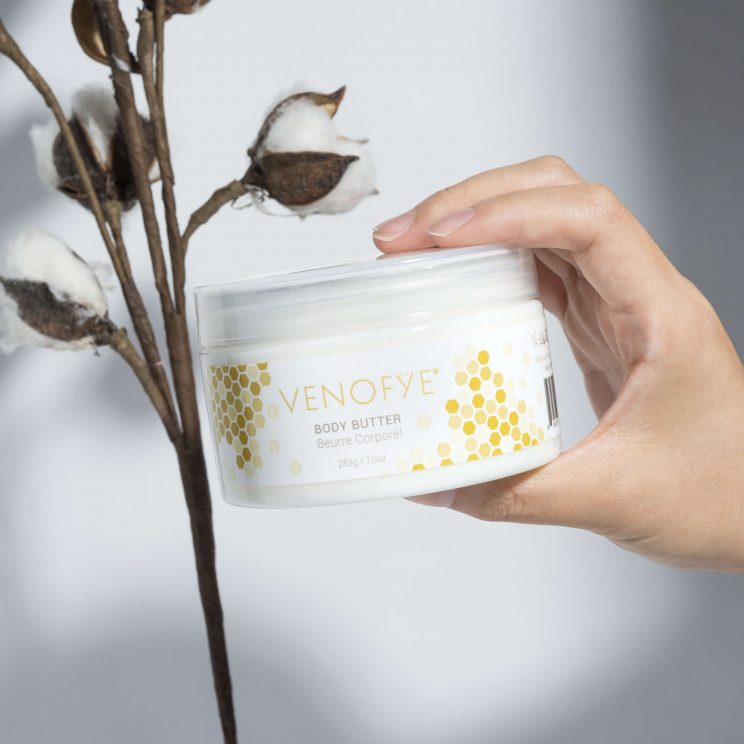 While the most popular skin care products tend to be formulas designed for the face, people also love Venofye's Body Butter. This product can singlehandedly transform the look of dull and dry skin on the body, leaving you looking soft and radiant from head to toe.
There aren't many body skin care products that contain bee venom, which is why this formula is so highly rated. It allows the skin on your body to benefit from how bee venom can tighten and plump up the complexion, which gives the body a smooth and toned appearance.
For added moisture, try applying this body butter to your skin while it's still damp. It will lock in those extra water molecules on your skin, pushing them deeper down into your skin cells instead of allowing them to evaporate.
Enjoy High-Quality Skin Care Products From Venofye
Venofye is known for producing high-quality skin care products with only the best ingredients, making it no surprise that our formulas are so popular. If you've been looking for a way to upgrade your skin care routine, our products definitely won't disappoint!
Check out more popular Venofye skin care products by browsing our bestsellers here.