It's no secret that we're not getting any younger. And, when it comes to our skin, visible signs of aging seem to pop up year after year!
You might have noticed that the dark circles under your eyes aren't getting any lighter. Perhaps, you've also started to worry about the fine lines and wrinkles around your eyes.
Is it just you, or are they getting deeper and deeper each passing day?
Well, now's the time to say goodbye to your worries.
Once you find the best eye serum for you, you'll be able to reverse those signs of aging in no time! And what better product to start with than the best eye serum in the market: Venofye's Royal Jelly Bee Luminescent Eye Serum?
In this article, we'll dissect what makes the Venofye eye serum the best eye serum… and why it just might be the one you need.
What are Eye Serums?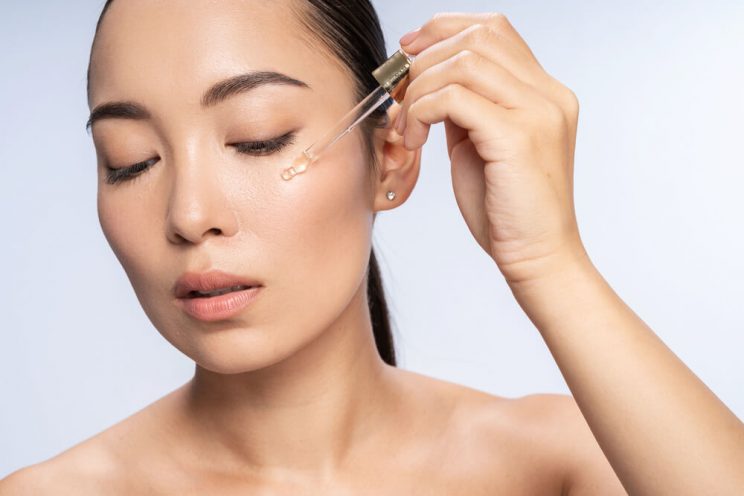 Before anything else, let's talk about eye serums first. What are they for, and what do they do? What exactly makes up the best eye serum? Join Venofye as we take a closer look at this must-have skincare product. 
Well, eye serums are specialized products formulated to target specific concerns regarding the skin near the eyes. Typically, these formulas are lightweight and packed with active ingredients to do their job on your skin.
Eye serums are usually made to target puffiness, dark circles, and wrinkles around the eyes. While other skincare products you use on your face might do the trick, eye serums are special because they're formulated with the fragile skin around the eyes in mind.
After all, the skin around the eyes is extremely thin and delicate compared to the rest of your face—so it makes sense that some of the products you use on your face might be too much for your undereye.
In a nutshell, here's what eye serums do:
Moisturize the skin around the eyes and makes them tighter and firmer

Improve fine lines, wrinkles, and crow's feet

Reduce puffiness around the eyes

Brighten and lighten tired eyes
What Makes a Good Eye Serum?

Not all eye serums are created equal. The best eye serums should contain ingredients proven to help fight discoloration, puffiness, and signs of aging around the eyes.
For instance, Vitamin C and peptides have established anti-aging benefits for the skin. Vitamin C, in particular, is also associated with brightening, given its track record in improving pigmentation issues.
Other ingredients to look for include antioxidants to protect the skin from damage, and hyaluronic acid for added hydration and firmness.
The good news? Venofye eye serums are made exactly with these incredible ingredients. Formulated with your skin's best health in mind, Venofye eye serums are sure to make your skin healthier and more radiant.
Let's find out more in the next section.
The Best Eye Serum: Venofye Royal Jelly Bee Luminescent Eye Serum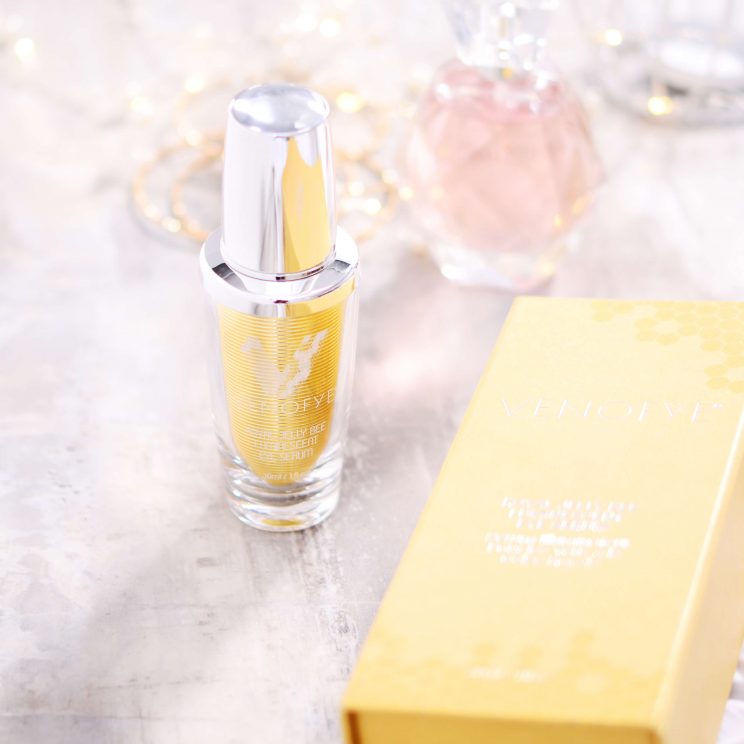 Rich, yet silky in texture, the Venofye Royal Jelly Bee Luminescent Eye Serum is packed with essential ingredients to reduce the appearance of fine lines and wrinkles surrounding the eyes. Made with Bee Venom, Palmitoyl Oligopeptide, and Vitamin C, this serum effectively reduces signs of aging, such as crow's feet and dark circles.
Ingredients in the Venofye Eye Serum

Wondering how this Venofye eye serum can deliver its promise? The secret lies on its ingredients, and the wonders each one can do for the skin.
Let's talk about them one by one:
Bee Venom
Surprised to find such an unusual ingredient in this eye serum? The thing is, bee venom is actually a wonder ingredient that packs a whole plethora of benefits! It's also Venofye's superstar ingredient—the ingredient that sets them apart from other skincare lines and products.
Bee venom, also called apitoxin, is an essential ingredient in combatting signs of aging on the skin. In fact, studies have shown its ability to reduce the appearance of fine lines and wrinkles.
Fine lines normally result from the decline in collagen and elastin production as we age. That's exactly where bee venom comes in!
The skin reacts to topically applied bee venom the same way it would react after getting stung by a bee. This triggers and stimulates collagen and elastin production on the skin, making the skin look younger, righter, and more radiant.
What's more, bee venom also contains other naturally occurring compounds beneficial for the skin. It has 18 naturally occurring components like enzymes, amino acids, and peptides, which the skin loves!
So, you need not worry! Bee venom certainly won't hurt your skin, and it won't pose side effects, either!
The best thing about this ingredient? It's ethically sourced and made. Venofye is 100% animal friendly; it doesn't harm the bees in the process of collecting its venom.
To collect the bees' venom, a glass sheet is used, where bees can pump out a small amount of venom. The acquired venom is then sent for purification for use in Venofye's skincare products. Meanwhile, the bees remain carefree, at no risk of death—unlike when they use their stinger!
As you can see, venom is certainly a powerhouse ingredient, and it's why Venofye eye serums are among the best eye serums in the market.

Palmitoyl Oligopeptide
Bee venom is amazing, definitely! But that's not everything this Venofye eye serum has to offer.
Another star ingredient to take note of is Palmitoyl Oligopeptide.
Palmitoyl Oligopeptide is synthetically made in the laboratory. This is a combination of the fatty acid palmitic acid, with other amino acids (or proteins). But why is it important?
Let's start at the beginning. A peptide is a chain of two or more amino acids—the building blocks of protein. Peptides have historically been used in skincare because they boost collagen production, since collagen is the most abundant protein in the body.
This means that peptides are essential anti-aging ingredients in the skin. With their role in stimulating collagen production, they become crucial in relieving the skin of wrinkles and fine lines.
In fact, a study showed that palmitoyl oligopeptide causes significant reduction in deep wrinkles, and improves overall skin texture after 2 months of continuous use! It also gives the skin added elasticity.
More studies are still needed, but palmitoyl oligopeptide is starting to become a viable alternative to retinol, a proven anti-aging ingredient. What's better, palmitoyl oligopeptide is less irritating and sensitizing to the skin, making it the perfect anti-aging ingredient in sensitive areas like the skin around the eyes!
But wait, there's more!
As an oligopeptide, palmitoyl oligopeptide is more easily absorbed by the skin when applied topically. Oligopeptides have short amino acid chains, which means that they can easily penetrate the skin's moisture barrier. The result? They can quickly and efficiently do their job of rejuvenating the skin!
But, reducing wrinkles and fine lines is just the tip of the iceberg. Palmitoyl oligopeptide has a lot of other benefits, too! It is also believed to stimulate skin growth and repair, making it great at fighting acne, too!
It also delivers increased hydration to the skin, making the skin plumper and moisturized. This is especially important when you think about how susceptible the skin is susceptible to damage, especially around the eyes.
An added bonus? Oligopeptides also protect against free radicals, which damage the skin and cause it to age. Oligopeptides help with cell renewal, and with strengthening the skin's moisture barrier for added protection against damage-causing factors.
With all these benefits, it's no wonder that palmitoyl oligopeptide is one essential ingredient in making Venofye eye serums some of the best eye serum in the market.
Vitamin C
Think Vitamin C is just good for your body's health? Think again.
Vitamin C is actually an all-around skincare ingredient! It's been used in countless skincare products for ages, all because of the good things it does to the skin. Vitamin C helps with uneven skin tone, acne scars, and skin dullness. Not to mention, it's another anti-aging ingredient, too!
In skincare, Vitamin C is an antioxidant that helps counteract the damage caused by free radicals and the sun's UV rays. A naturally occurring antioxidant, Vitamin C helps the skin repair its damaged cells. Because of this, your skin cells remain healthy, youthful, and glowing!
There's so much more that Vitamin C has to offer, though!
Vitamin C is yet another collagen-stimulating ingredient. Because of its highly acidic nature, Vitamin C can trigger the skin to start its healing process—a process that speeds up collagen and elastin production. As a result, the skin is kept plump and firm.
Vitamin C is also a brightening superstar! Known to inhibit melanin production on the skin, Vitamin C is the go-to ingredient in reducing hyperpigmentation, getting rid of dark spots, and evening out the skin tone. Melanin is a pigment that gives the skin color; so inhibiting its production can keep the skin looking fair and even.
Just an important note—though it can protect you from sun damage, Vitamin C isn't a sunscreen substitute! In fact, you should use sunscreen after applying Vitamin C to ensure your skin's protection against UV damage and free radicals. This also minimizes your chances of getting dark spots!
Now, just think about how essential an ingredient Vitamin C is when it comes to eye serums. Aside from softening wrinkles and other fine lines, it's also a great way to lighten and brighten dark circles under the eyes.
You can certainly see why the best eye serums, like the Venofye Royal Jelly Bee Luminescent Eye Serum, have vitamin C in them!
How to Use an Eye Serum


Wondering how to get the most out of the Venofye eye serum? Here's how to use it in your daily skincare routine to target tired eyes:
Wash with a Gentle Cleanser
It's always important to wash and cleanse your face to rid it of impurities that have accumulated throughout the day. For this step, you can never go wrong with the Venofye Queen Bee Clarifying Cream Cleanser.
This gentle cleanser is effective in removing dirt and makeup from your face after a long day. It's also hydrating, so you won't have to worry about that dry and tight feeling most cleansers give. Instead, find your skin feeling radiant and silky smooth after each wash!
To use, apply it onto your palm and massage it into your face and neck. Afterward, rinse it with water and pat your face and neck dry.
Apply the Royal Jelly Bee Luminescent Eye Serum
Next up is the Venofye eye serum. You only need to apply a small amount of the product around your eye area. But, make sure to focus on problem areas, such as those with fine lines and wrinkles.
Once done applying, pat the product in for maximum absorption.
Seal Off Your Eye Serum with an Eye Cream for Best Results
For best results, it's best to combine the Venofye eye serum with their bestselling eye cream. The Royal Jelly Bee Eye Firming Cream combines powerhouse ingredients such as Caffeine, Shea Butter, Vitamin E, and Green Tea, to invigorate the skin under your eyes!
This wonder eye cream addresses puffiness and fine lines, leaving you looking fresh and well rested! Combined with the best eye serum from Venofye, you'll certainly see a difference in your undereye.
To apply, simply apply a small amount of the cream under the eye area. Massage this gently using circular motions, until the product is fully absorbed.
Want to up your routine a little bit?
Once every week, you can also apply the Royal Jelly Bee Eye Rejuvenation Mask under each eye for around 15-20 minutes after the cleansing step. Don't forget—you'll also be rinsing the mask off after application! You can proceed to apply the eye serum afterwards.
You can also do a spot treatment with the Royal Jelly Eye Beelift after applying your serum for best results! just sweep the applicator across your undereye area, then lightly pat until absorbed.
Conclusion

Dealing with dark circles, fine lines, and wrinkles can certainly be daunting, but it doesn't have to be! With the best eye serum in the market, Venofye's Royal Jelly Bee Luminescent Serum, you can bid your skin concerns goodbye. Just remember to follow your routine religiously, and your eye bags will be gone in no time!