Eyes on us, we've got the lowdown on all things eye cream! 
You've been using the same old eye cream for years, but are you giving it the attention it needs? Eye creams can be an important part of your skincare routine, but not all creams are created equal. 
When it comes to using an eye cream, you want to look for those products that will not only leave you feeling refreshed and rejuvenated, but will also help prevent the visible signs of aging. 
If you're looking for a new eye cream, research must be done beforehand so you know exactly what to invest in. Luckily for you, Venofye has come up with 7 things to look for when choosing a new eye cream! 
Why Use Eye Cream?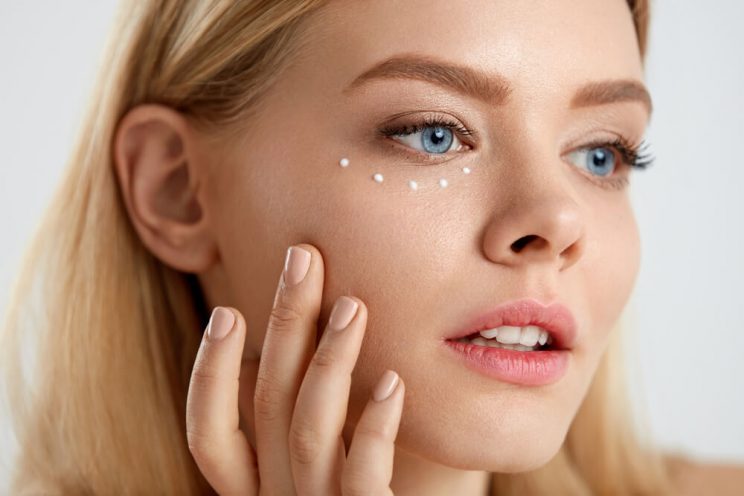 So, what are you looking for? This will all depend on what issues you're trying to combat. Some of us wake up with puffy eyes, others just need a little hydration, and eventually, all of us fight the inevitable wrinkle or two. 
But generally, among us beautyholics, there are 4 main concerns when it comes to needing an eye cream. 
Puffiness
Dark circles
Wrinkles and firmness
Dehydration
Puffiness
An eye cream can diminish the appearance of puffiness with a high concentration of active ingredients. It is important that these ingredients have a soothing effect on the skin and do not irritate it.
A best-seller and one of Venofye's most powerful eye treatments, the Royal Jelly Eye Beelift is an innovative applicator inspired by state-of-the-art technologies in lifting procedures. 
The Beelift can erase the appearance of puffiness using just a small amount of serum, giving you a refreshed look. 
Wrinkles and Firmness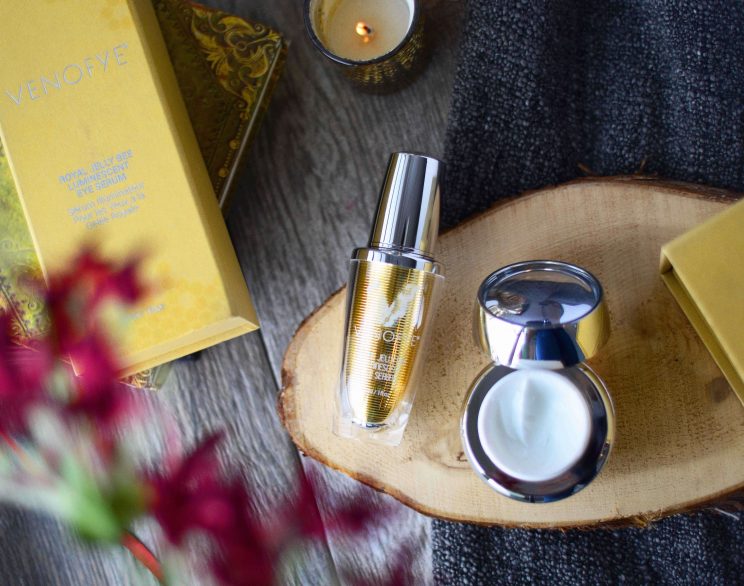 Wrinkles around the eyes are a common complaint among women as they age. Some eye creams can help reduce the appearance of wrinkles and fine lines.
The Royal Jelly Bee Eye Firming Cream works to invigorate the feel of the skin under your eyes and diminish the look of fine lines and puffiness. This cream has a unique formula of caffeine, vitamin E, shea butter, and green tea to help achieve a firmer, well-rested look. 
Not sure if the area under your eyes is already aging? Take a look at our article about a few warning signs. 
Dark Circles
Eye creams can help reduce the look of dark circles and discolorations on the skin around the eyes caused by sun damage or aging.
Hydration 
The skin around your eyes is much thinner than other areas on your face. As a result, it's more susceptible to dehydration and other environmental factors that cause the skin to become dry and itchy. Eye creams can relieve dry skin leaving the complexion looking radiant. 
Find That Moisturizing Factor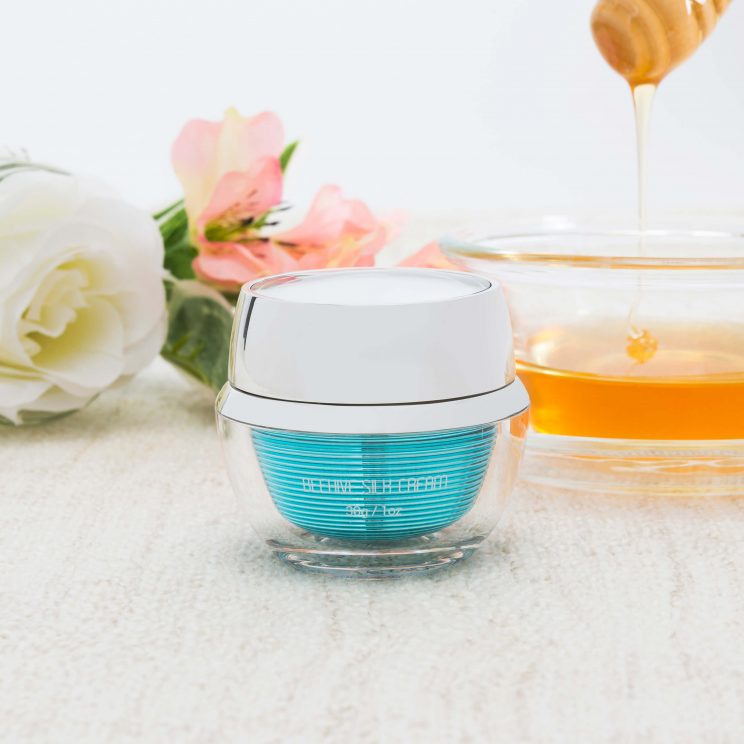 Eye creams are typically more moisturizing than other skincare products because they come in contact with the delicate skin around the eyes. Look for an eye cream that contains hyaluronic acid or other ingredients that will help hydrate your skin and reduce the feeling of any irritation caused by dryness.
When it comes to moisturizing, you should pay attention to the rest of your face too. Our Beehive Silk Cream was designed to revitalize the look of dry skin.
It's a perfect option for a morning moisturizer because of its silky lightweight solution. The cream is made up of bee venom, green tea, and hyaluronic acid. It's a moisturizing blend that'll soften the appearance of your skin. 
Protect Yourself From UV rays
Exposure to the sun's ultraviolet (UV) rays is one of the main causes of wrinkles. UV rays are present in sunlight, and they damage collagen by causing structural changes in the skin. This damage may lead to premature aging of the skin.
Choosing an eye cream that's infused with SPF can help protect the skin, prevent further age spots and reduce the formation of free radicals caused by UV exposure.
Look for Formulas Designed to Diminish the Look of Aging
Another important thing to look for when purchasing an eye cream is ingredients that tackle the visibility of aging. Those such as retinol may help reduce the look of fine lines and wrinkles in the future while also improving the feel of skin elasticity and reducing the appearance of puffiness around the eye area. 
Another ingredient you'll want to look out for is collagen peptides, which can also help improve the feel of skin elasticity while also helping reduce the visibility of puffiness around the eye area.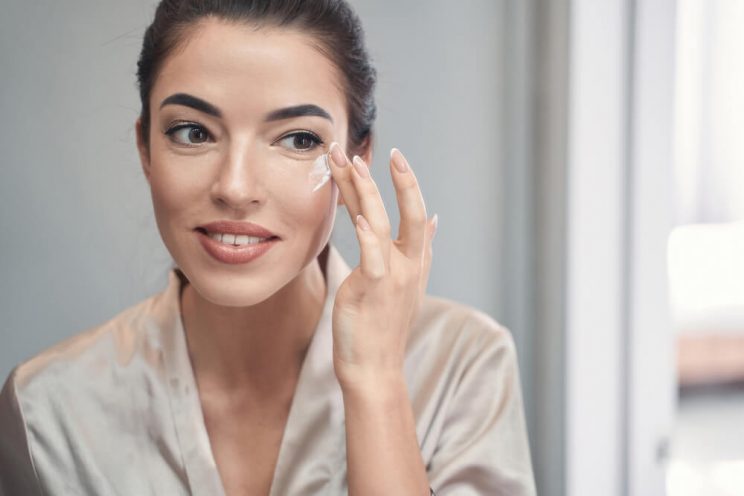 Stay Away From Fragrances 
This might go without saying, but highly fragrant eye creams are generally a no-no when it comes to eye creams. As the cream comes so closely in contact with your eye, you'll want an eye cream that is more neutral in scent. 
Make Sure it's Right for Your Skin Type
Eye creams can be formulated for dry, oily, combination, normal or sensitive skin types. If you have sensitive skin, some products may cause redness or irritation due to the ingredients used in their formulas.
If you're not sure what your skin type is, take a look at the different skin types and the right way to build a skincare routine. 
Only Use Cruelty-Free Products 
Fortunately, and rightly so, Venofye is totally against any cruelty towards animals and is 100% animal-friendly. 
Although we use bee venom, it's important to note that the bees are not stressed or harmed during the bee venom extraction process. 
Read the Ingredients
Eye cream ingredients are the key to a good eye cream. They have to be able to do the job without clogging your pores and causing irritation. There are so many eye creams on the market that it can feel overwhelming. But, there are a couple of stand-out ingredients that'll help you feel that glow. 
Caffeine
Helps with: Visible puffiness
Just like we use a cup of coffee to wake ourselves up, so do eye creams with caffeine. Caffeine is an anti-inflammatory, meaning it can help reduce the look of puffiness. It's also a powerful antioxidant that helps with the appearance of under-eye bags. 
Hyaluronic Acid
Helps with: Brightening the complexion
Hyaluronic acid is a natural substance that occurs in the body and makes up the majority of your skin's moisture content. It's an excellent moisturizer for both dry and oily skin types.
The Iron Bee Skintight Syringe is a winning combination of hyaluronic acid, DMAE, cucumber extract, and avocado oil that reduces the visibility of facial lines and wrinkles. 
The formula comes in a syringe-like applicator that's easy to use and allows you to directly target the look of unwanted lines around your eyes. You can even use it on other areas of the face and enjoy a smooth, brightened complexion.  
Alpha Hydroxy Acids (AHAs)
Helps with: Exfoliation 
AHAs are used as an exfoliant to help increase product absorption and improve the appearance of surface lines. You might feel nervous about leaving an exfoliant near your eyes, so be careful to only use gentle exfoliant products that can be left on. 
Green Tea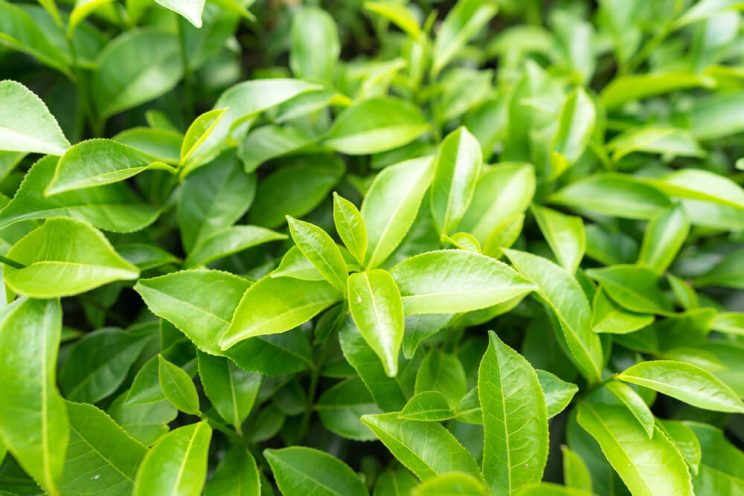 Helps with: The appearance of inflammation 
Some eye creams contain ingredients that help reduce the look of redness and inflammation, which is especially important during the colder months when inflammation can occur more easily. Look for one that contains green tea. It can help soothe the look of irritated skin.
Vitamin E
Helps with: Moisturizing 
Vitamin E has strong antioxidant properties that help provide moisture and lock in water. This gives your skin a more plump and hydrated look and feel. It also feels soothing, making it a perfect ingredient as it works for all different types of skin types. 
Collagen 
Helps with: Saggy-looking skin 
As we grow older, the collagen production in our skin reduces, causing the appearance of aging. Many environmental factors affect the breakdown of collagen, like sun exposure and pollution. Using topical collagen helps to encourage the skin to feel stronger and more resilient again.
Bee Venom
Helps with: Visible wrinkles 
It may seem like a crazy ingredient, but there's a reason why this ingredient lives up to the hype. Bee venom skin care, or apitoxin skincare, will leave your skin feeling plumper and tighter. 
The Royal Jelly Bee Luminescent Eye Serum is one of many Venofye products with bee venom in it. The serum is formulated with bee venom, palmitoyl oligopeptide, and vitamin C, creating a rich texture that's designed to reduce the visible signs of aging. 
How to Apply Eye Cream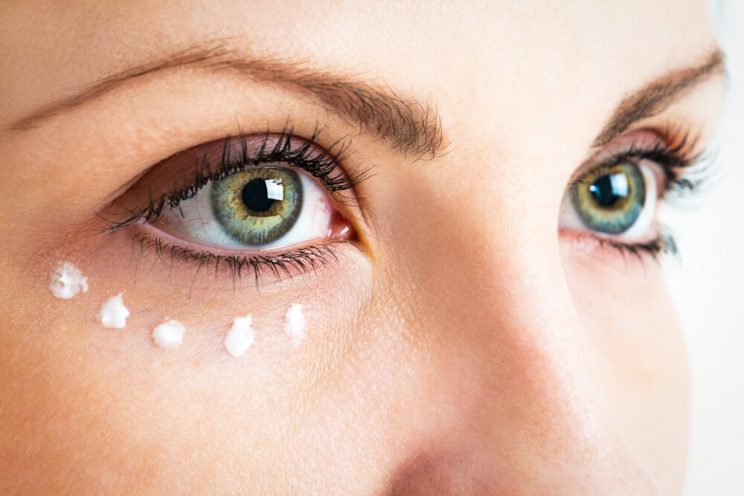 Correctly applying eye cream will help your skin absorb all it can and reap the benefits the product has to offer. 
Use Your Ring Finger
As the skin around the eye is very delicate, it's important to use one of your weaker fingers when applying eye cream. Use your ring finger as it'll be the most gentle. 
Apply a Pea-Sized Amount of Product
Next, all you need is a pea-sized amount of cream. Eye creams are rich in moisture, so you'll only need a little. They can sometimes be a little pricey, so savoring each drop can only help!
Tap Inner to Outer
Gently using your ring fingers, tap small dots under your eyes. You'll start in the inner corner and work your way out. Be sure to reach all the way along to the outer corner. 
Lightly Pat
Pat the cream in, but don't rub too hard. 
Wait a Few Minutes
An eye cream can take a few minutes to absorb, so avoid putting on your next product, make-up, or falling onto your pillow for a little while after. 
What Else Can I Do?
De-Stress and Get Some Sleep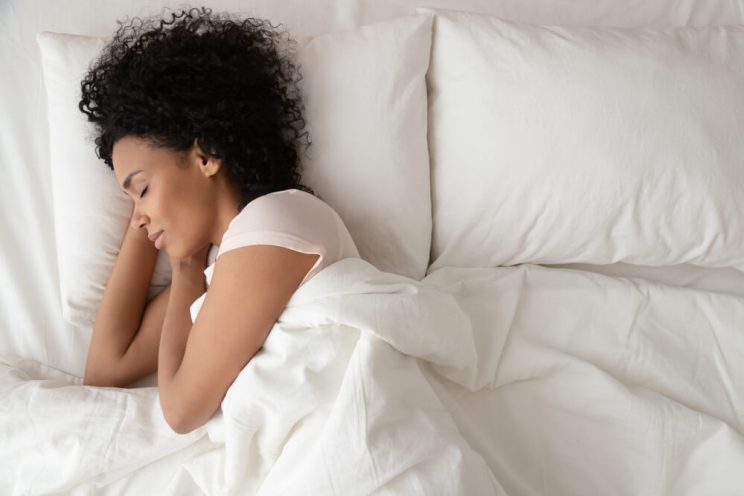 Stress may be an unavoidable part of our fast-paced lives, but there's no doubt about it – stress can have negative effects on your skin. For under your eyes, research has shown that stress and a lack of sleep reduce the feeling of skin elasticity and increase the visible signs of aging.
So, get your beauty sleep!
Improve Your Circulation 
Massaging the area gently around your eyes could help improve circulation and reduce the look of any puffiness you may have. 
Take Advantage of Technology
Why not embrace technological advancements and use a skincare device that's made for the sensitive eye area? The Jelessi Photonix-2 Eye Wand is specifically designed to treat the visible signs of aging around the eye's delicate skin. 
The Photonix- 2 Eye Wand has two unique functions, each targeting unique problems. The Blue Relief Mode works to eliminate toxins, brighten the look of the skin, and reduce the appearance of puffiness. The Heat Lifting Mode makes use of red light waves to work to reduce the visibility of wrinkles.
Eat Right and Get Moving
With the help of your trusty eye cream and a few improved habits, your skin can feel moisturized and revitalized. 
An anti-aging diet and exercise are all contributing factors to great-looking skin! It may seem simple, but these small acts of self-care lead to big returns when it comes to skin, and help your skincare return get a little bit easier. 
Indulge in Deluxe Face Masks 
There's something about putting on a face mask that immediately makes you think you're at the spa and brings you a zen feeling. They're also great to add to your weekly skin-care routine.
Venofye's Blossom Bee Wrinkle Smoothing Mask has a potent blend of Bee Venom, Collagen, Lavender Oil, and other botanical extracts. It comes with under-eye masks to place under your eyes. It also comes with a luxurious full-face mask. Why not make a night of it and take a trip to the spa without leaving your couch!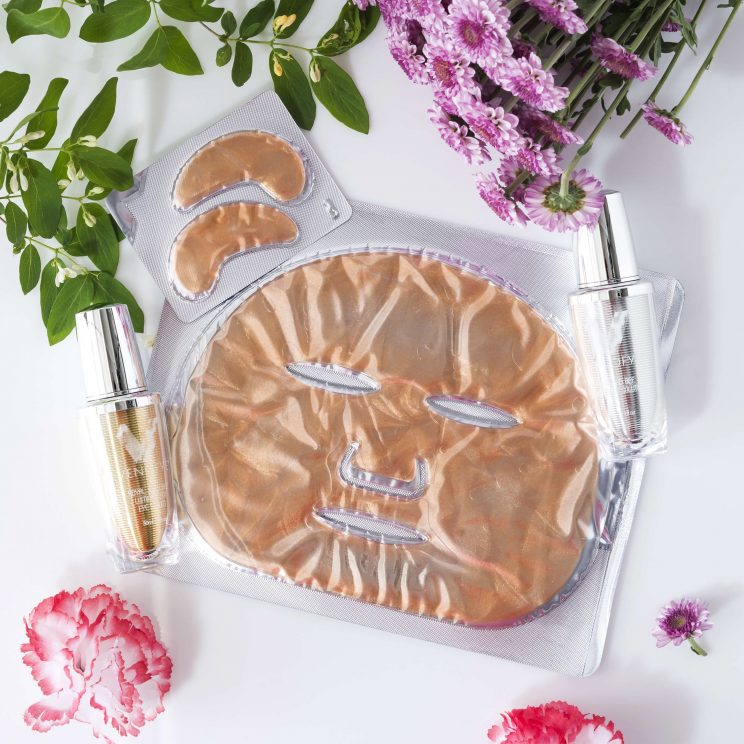 The Verdict 
Which eye cream should you pick? The short answer is that it depends on your skin type, lifestyle, and planned use of the product.
By following the tips above, you should hopefully be able to find the perfect eye cream for your skin.
Click here to browse more of Venofye's bestselling bee venom-infused skincare products.