You work hard every day and it definitely shows. However, while the designer bag you're carrying is #goals, the appearance of those dark bags under your eyes aren't. Take a minute or two to unwind and read Venofye's tips on why and how you should de-stress for your skin and its appearance.
When You're Stressed, it Shows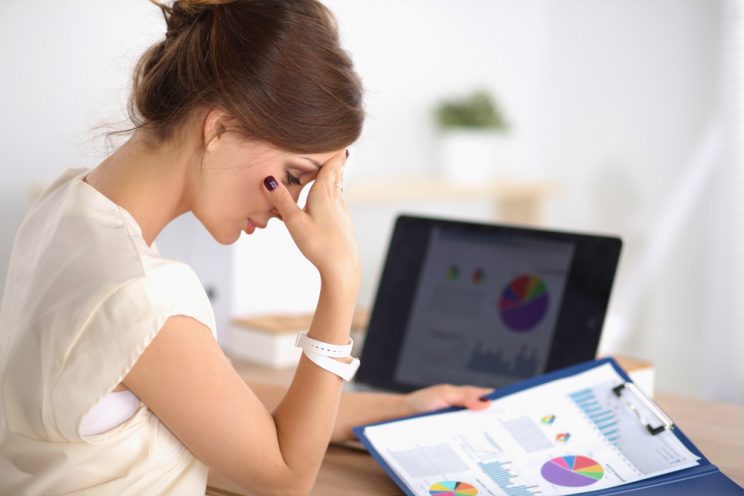 Even if you could sail off to a private island right now, you wouldn't be able to escape stress forever. This is because we all need a certain level of stress to keep us going and motivated. However, chronic or long-term stress can contribute to a plethora of health risks and dim your skin's natural glow.
How Stress Messes With Your Skin
When we get stressed, our bodies work harder to keep up with the demand. Our hearts beat faster, our muscles get tense, and hormones like cortisol start to rise. All of these things and more happen simultaneously in response to stress. As the cells of our body continue to work overtime, they use up more resources and produce toxins, such as free radicals.
Free radicals are typically oxygen molecules that have unpaired electrons which make them unstable. In order to make up for the missing electron, these so-called reactive oxygen species steal electrons from parts of cells and substances in the body.
Because of this, these components within cells now lack electrons that are necessary to continue essential metabolic processes. In turn, this damages the cells. This is called oxidative stress and it leads to the development of many diseases and accelerates the signs of aging.
It's important to regularly de-stress for your skin to prevent stress-related skin problems like:
Increased oiliness and dullness

Pigmentation

Worsening of acne, psoriasis, dermatitis

Hives or rashes

Slower wound healing

Facial lines and wrinkles
Here's the deal:
While you can't completely cut out stress, there are ways to effectively manage it and, in turn, de-stress for your skin.
Must-Have Stress-Busting Skincare Products from Venofye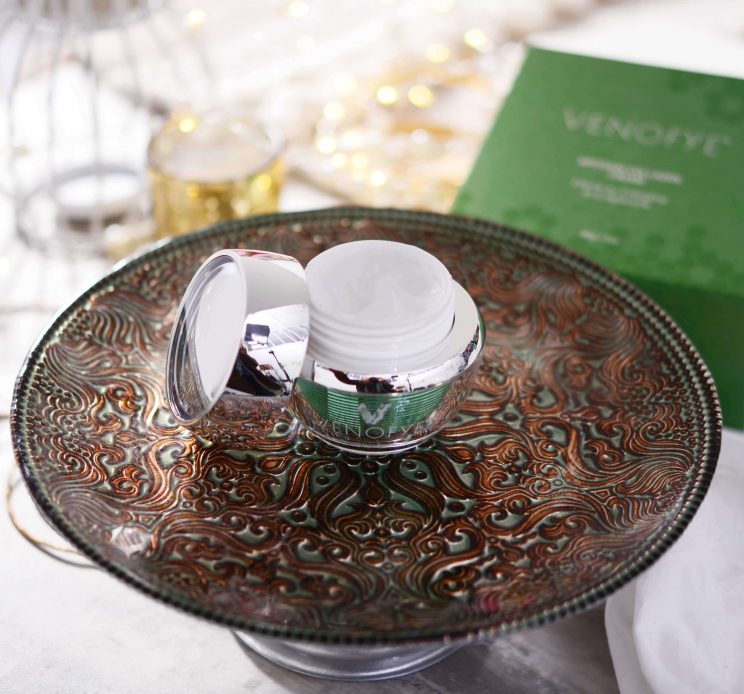 Working overtime? Our convenient Royal Jelly Bee Eye Rejuvenation Mask will have your eyes looking perky all day after just a few minutes of wearing them. Each eye mask contains a unique blend of bee venom, essential oils, and vitamins to bring the look of life back to your eyes.
Want to get rid of the look of fine lines and wrinkles ASAP? Try the Royal Bee Rapid IV Plump Infusion for instant improvements. This infusion contains Vitamin E, hyaluronic acid, and bee venom, which restores the feel of skin volume and keeps it looking tight and lifted.
Worried about the appearance of sagging skin? Keep your skin feeling supple and refreshed with the Apitoxin Collagen Cream. With just a dab of cream, your face will receive the powerful benefits of bee venom, collagen, retinyl palmitate along with gentle natural plant extracts.
Don't Forget: Your First Impression Could Be Your Last
Remember your last job interview or first date with someone new? Unfortunately, even with a stellar resume or dating profile, tired-looking eyes and skin woes can tell a different story. However shallow it may seem, there is no denying that first impressions can make or break you – and there is science to back this. In one study, it was found that people responded better to those with radiant skin.
And it gets better!
Not only did having a healthy glow result in better impressions, but it also made the women in the study look nearly three years younger when compared to those with overly oily or matte skin. Want to know more? Keep on reading to learn more ways to promote a healthy-looking complexion and get that stress-free glow.
Solutions for Day-to-Day De-Stressing for Your Skin:
Lock in much-needed moisture without looking greasy by following up with:
Skincare is Selfcare
All work and no play can make your life, and complexion, dull. Taking time to relax each day is not only essential for your mind, but it is also important for restoring your skin's appearance. De-stress for your skin in the form of skincare rituals. They offer the perfect opportunity to give yourself a mini mental health break while boosting your confidence and outer glow.
Want to know the best part?
Self care doesn't have to be done alone! Pencil in a girls' night out – or in – and de-stress for your skin and catch up with friends at the same time. Can't decide what to do? Here's a list of activities that combine skincare and self care:
Masks and Chill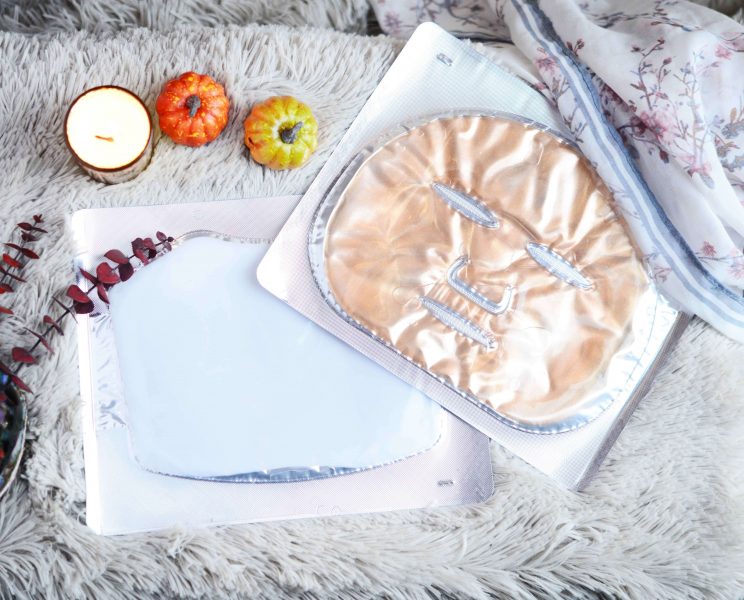 Sheet and clay face masks are popular skincare products people use around the world. They are easy to apply and, best of all, you can put one on and still have the freedom to do other things – like eat and put on that series you've already rewatched half a dozen times. Get some much-needed de-stress for your skin time while chilling on your couch in the comfort and safety of your own home.
Need some new products for your next masking sesh? Check out some of the face masks available from Venofye!
"Sp-ahhh" Day
After a long day of work, there's nothing better than a little massage and mani-pedi. Whether you prefer the D-I-Y approach or want to leave it to the professionals, taking some time to unwind and refresh yourself is never a bad idea. You'll feel better and will likely be feeling more productive when you return to work.
Weekend Staycation
Let's face it, sometimes you just really need to get yourself out of the house. While there's absolutely nothing wrong with wanting a change of pace and scenery, it can be hard to find the time or money to make it happen.
Booking a room at a hotel within your city allows you to leave the stress at home for a bit without having to break the bank. While there, take advantage of the amenities the hotel has to offer, including saunas, swimming pools, and sumptuous gourmet dishes. However, avoid too much sun exposure by the pool by staying in the shade and putting on sunscreen throughout the day.
Skincare Potluck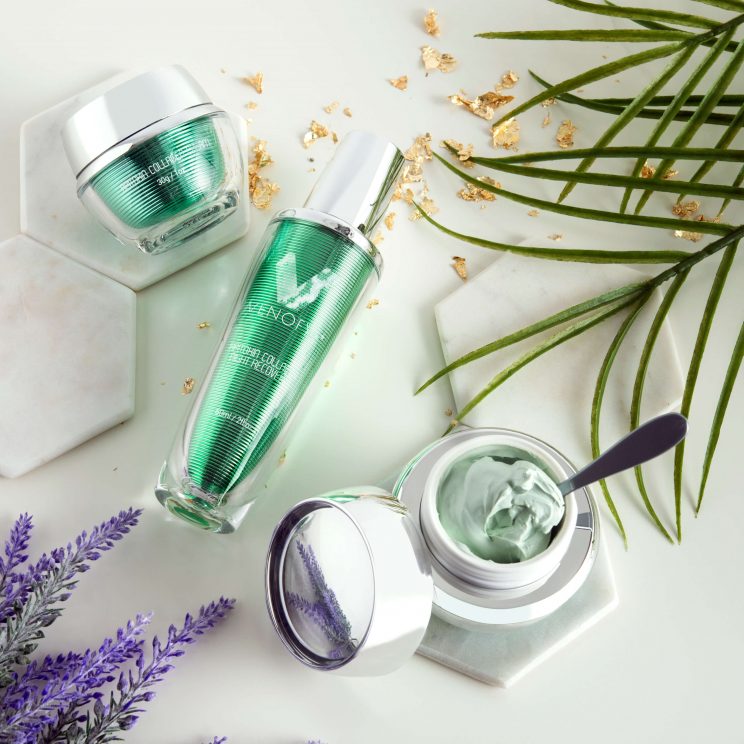 Sharing is caring! Instead of a traditional potluck with food, a skincare "potluck" allows you to test out products and hear honest reviews directly from your friends. Although, it is important to remember that not every product should be shared. Avoid touching products like creams or lotions directly with your fingers to prevent the spread of germs. Instead, use a small spatula to carefully get and apply the products to your skin.
Before doing a skincare potluck, gather your products or purchase a kit. Aptly named, our Self Care Set is the perfect gift for you and your bestie. Don't forget: men need skincare too. Give the Dronebee Collection to that special man in your life.
Beauty Starts From Within
When we get stressed out, our health and beauty suffer. While stress can't be avoided completely, we can take better care of ourselves to reduce the negative effects of stress. Some of the best ways to manage stress and improve your skin's appearance are lifestyle changes.
Eating Right
As they say, we are what we eat. Although fast food and desserts are both convenient and comforting after a long day, they aren't doing your body favors. Refined sugar and highly-processed food have been shown to speed up skin aging and contribute to dreaded muffin tops and love handles.
Instead of junk food, dress up your meals with colorful yet nutritious foods that will help you to de-stress for your skin:
Yellow: carrots, bananas, bell peppers, citrus fruit

Green: spinach, kale, cucumbers, avocados

Red: tomatoes, watermelon, strawberries, cranberries

Blue: berries, grapes, figs, eggplants
You can't go wrong with any of these antioxidant and vitamin-rich foods. Drop a cup or two into a blender to make a delicious smoothie. Alternatively, make a quick and tasty salad, or just cut to the chase and eat them as is. When looking for premade juices, always check the label and stay away from juice concentrates that contain added sugar or artificial flavorings. Your body and skin will thank you later.
Lucky for you, there's no need to swear off your favorite take-out or snacks for good. Like with everything else in life, moderation is key. Sticking to a healthy diet with the occasional guilty pleasure will still help you get that glow you are aiming for.
Staying Hydrated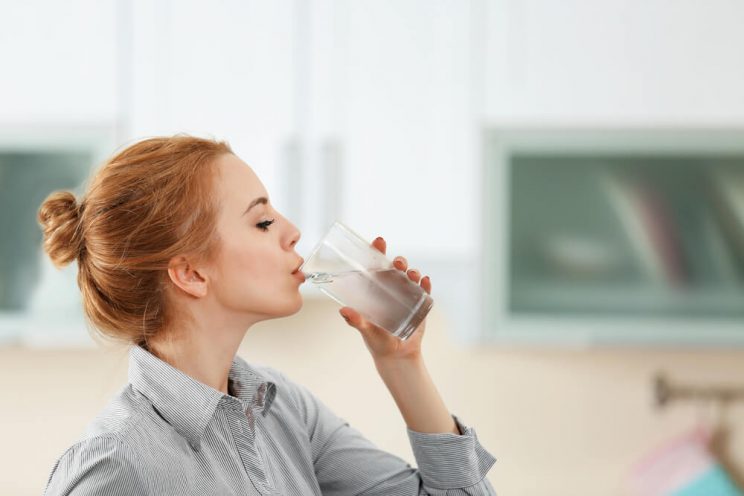 Did you know: our skin contains over 60% water? So, it comes as no surprise that we need plenty of it each day. From flushing out toxins to keeping our skin supple, don't let a hectic schedule get in the way of your hydration goals.
Aim for at least 2 to 3 liters (or 8 to 13 cups) per day for optimal health benefits. One useful life hack to drinking more water is to use a large container and label notches that correspond to different times of the day. The visual cues make it easier to keep track of how much water you have (or haven't) had already. Of course, don't forget to drink extra water if you sweat!
Kicking the Habit
You've probably heard it all before – "It's a nasty habit", "It's so expensive", "There are better things to do with your time and money". The bottom line is that drinking and smoking do more harm than good. Aside from wreaking havoc on your lungs and liver, these vices contribute to unwanted wrinkles, blotchy skin tone, thinning lips, and puffy under-eyes.
De-stress for your skin by skipping alcohol and nicotine and opting for healthier stress-relieving alternatives, like exercise or getting a hobby.
Exercising Regularly
Between commuting, work, and household chores, it can be hard to squeeze in a good sweat sesh at the gym. While it can be difficult, even shorter, moderate-level workouts a few times a week offer a number of benefits. Aside from getting into shape and elevating your mood, exercise relieves pent-up stress – both inside and out.
Using exercise to de-stress for your skin gives you a natural glow that just can't be beaten. Cardio sessions get your blood flowing and eliminate excess bloat and toxin buildup. This leads to rosier cheeks with less puffiness. Just be sure to thoroughly cleanse your face and body after working out to prevent clogged pores and other skin problems caused by a buildup of sweat and dirt. Our Queen Bee Clarifying Cream Cleanser is great for this!
Get Enough Sleep
In our fast-paced world, a good night's sleep can seem like a rare luxury. Most of us need 7 to 9 hours of sleep every night but just getting the hours in isn't enough. Sleep quality matters just as much as, if not more than, sleep quantity. This is because when we sleep, it gives our bodies the chance to recover and rebuild after a long day.
It's called beauty sleep for a reason: a large part of de-stressing for your skin happens at night when you're in bed, as this is also when collagen production and cell turnover is at its peak. Even missing out on a couple of hours of sleep is enough to induce puffiness and double the number of fine lines on your face. Talk about a rude awakening!
Establish a Good Skincare Routine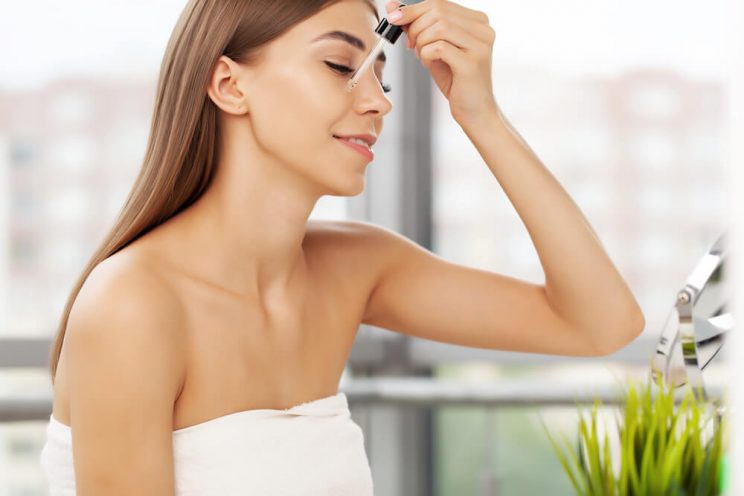 But that's not all! Aside from these healthy lifestyle changes, topical products and a solid skincare routine can help you to de-stress for your skin from the outside. Just like eating your fruits and veggies, get the beauty-boosting benefits of vitamin C with our Queen Bee Vitamin C Serum. Power up the effects of your serum even further by pairing it with the Photonix-2 Eye Wand.
What's the Buzz?
Discover everything Venofye has to offer to de-stress for your skin and tackle other concerns. We're always working on something new and exciting. Be the first to know about new products and giveaways by following us on social media!